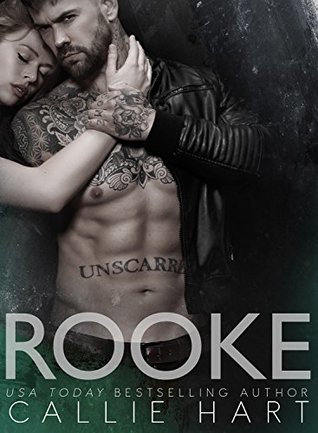 5 Stars
Sasha is broken. After a tragedy forever altered her life she has been living as a shell of her former self. After a run in with the cocky grandson of a colleague who may stir something in her, she realizes how inappropriate any thoughts she has had are and vows to forget him… until he shows up on her doorstep for her book club…
Rooke Blackheath… he is a hard and dangerous man. Growing up wealthy and privileged did nothing to stop his desire to steal cars and work with some dangerous New York criminals. He may be young in age, but he can see and understand the darkness in Sasha like no one ever has.
'He's a hard man to study without feeling a faint glimmer of panic sparking in your gut'
Rooke and Sasha may be undeniably attracted to each other, but when the dangers of NYC start showing up on their doorsteps will they be able to prevail?
Wow, once again Callie Hart writes a fantastic book. I loved Rooke and Sasha, their story would have been fantastic all on it's own, but add in some thriller elements and this is a engrossing, excellent read. Oh, and I loved the book club storyline… so freaking clever!
Sasha, who has been struggling through life still fights and claws her way out of a dangerous situation all on her own. Rooke is exactly what Sasha needs in her life to protect and heal her, but in his own badass way. I would love to see more of Rooke and Sasha in the background of more of Callie's books… I love how she tends to tie them all together and characters get revisited often!
I received a complimentary copy of this book for my honest and unbiased review.
Click the Cover to Buy Now!