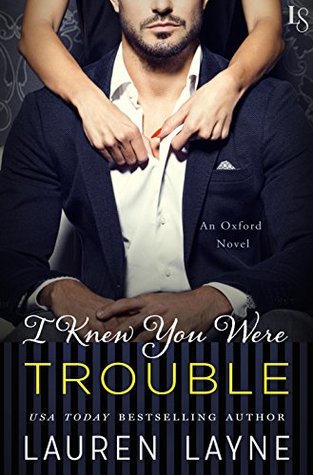 4 Stars
The day Taylor Carr meets Nick Ballantine it is hate at first sight. Someone who is such a jerk just shouldn't be that good looking. But when a moment of weakness leads to a slight softening of her strong anti-Nick feelings, she and her nemesis discover they might not hate each other so much after all.
Nick isn't a commit-to-the-9-to-5 type of guy. If people (ahem, Taylor) think he is juvenile for his less-than-stable career, then she can go on thinking what she wants. Luckily, while being in the right place at the right time, Nick uses an awkward moment to get as close to Taylor as he could possibly get… as new roommates.
When Taylor and Nick start to spend real time together, and start to see past their mutual  first impressions, will they finally realize they want to be with the other, or will their time ever be right?
This was another lovely Lauren Layne book! What starts out as a slow burn, love/hate storyline, develops into tentative friends, roommates, and eventually… more? Taylor and Nick both realize they are attracted and interested in each other, but with their bad first impression coupled with their mutual relationships, they just never seem they will ever be in the right place.
I absolutely love the Stiletto and Oxford series, and this book, while set in the Oxford series almost feels like the start of a new series on its own. We were introduced to Nick and Taylor previously, and I am so glad that we got their story!
As usual I loved all the characters! We got very small glimpses into some of the original Oxford men, and I loved Taylor's friendship with Daisy and Brit! Fun, witty dialogue coupled with fantastic writing makes this book a must read!
I received a complimentary copy of this book for my honest and unbiased review.
Click the Cover to Buy Now!
Other Books in the Oxford Series