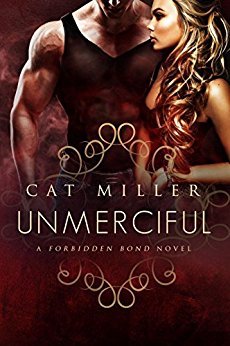 4 Stars
When Kayden and Lindsay come together in one night of unbridled hunger and passion, a relationship between them is not one that has the possibility of enduring. He is a vampire, and she is a completely normal human, which would only make their lives impossible to comfortably coincide.
5 years later…
Kayden Paris has completely changed from the unconcerned young man he was when he and Lindsay first met. Dealing with the fallout of the major upheaval in the society of vampires, his life has taken a turn from his once easy existence where he had met an innocent girl like Lindsay.
Lindsay Roselle's simple, yet lonely existence has been completely shattered. Finding herself a prisoner of vampires, she has been brainwashed and subjected to many horrific  experiments. And her only hope of rescue has long since passed…
When Kayden and Lindsay meet again, he is her only anchor in her tumultuous recovery and entrance into a world where her knowledge is extremely limited. Once lovers, now friends, their relationship that used to seem so impossible has now become something they never thought they could have…
~~~~~~~~~~~~~~~~~~~~~~~~~~~~~~~~~~~~~~~~
I absolutely love the Forbidden Bond series, and after an incredibly long wait, Unmerciful has delivered with another epic story.
Lindsay was a young college student whose life was completely ruined when she became friends with the wrong person. After being rescued from her torture, she has a long and difficult road to recovery. Kayden is someone who has always drawn her, and now that she is finding herself struggling to overcome her issues, he is the only person who makes her feel whole again.
Kayden is a big deal in vampire society. Full of regret for what happened to Lindsay and wishing things for them could have been different, he tries his hardest to ensure that he isn't taking advantage of her now in her weakened state.
With people on the loose who still pose a very real danger, and no one knowing who they can really trust. Everyone is on high alert in the need to bring the society back to the safe order it once consisted of…
With the revisiting of old characters (Griffin and Tessa!), and a new story line filled with drama, suspense and a whole lot of hot vampire alpha goodness, this book is a paranormal must read!
I received a complimentary copy of this book for my honest and unbiased review.
Click the Cover to Buy Now!
Read the Entire Series!
SaveSave
SaveSave
SaveSave
SaveSave
SaveSave
SaveSave