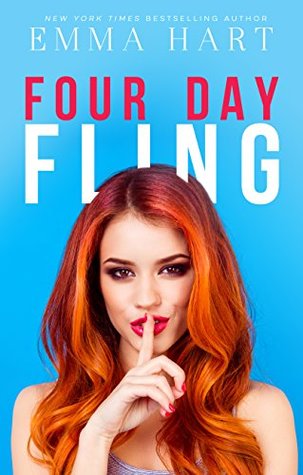 4 Stars
Poppy Dunn has a complicated relationship with her family… to say the least. In an effort to placate her mother(zilla) during her sisters wedding festivities she decides to invite an almost stranger to be her date. Sounds like a solid plan… right?
Adam Winters is used to women falling all over for him due to his career choice. But he finds Poppy is completely unaffected by his money, status and minor celebrity. Mostly because she has no idea who he is. Agreeing to be her date for the wedding is a no-brainer, as long as he gets to see her again, he will agree to almost anything…
With Poppy's crazy family and Adam's busy life, these two only have to worry about getting through four days of pretend dating… but, when a fake relationship develops real feelings, will they ever be more than just a fling?
~~~~~~~~~~~~~~~~~~~~~~~~~~~~~~~~~~~~~~~~~~~~~ 
This was a really great read! With an unconventional heroine and a hero who lives and breathes hockey, when these two are pushed out of their everyday element to spend some stressful and hilarious time together, will their attraction be a recipe for forever?
I loved Poppy! Sassy and straightforward, she is the antagonist in her family… but also the force who keeps them from all killing each other. When the one night stand she has with Adam has her contemplating inviting him to the wedding, she does everything she can to talk herself out of it. But, a handsome buffer like him would be a great distraction… for everyone.
Adam was a hilariously self assured man who lives for his career and hasn't yet found many women who want him for anything more than his success. Poppy is a refreshing change he isn't prepared to let get away so easily, and four days on the beach with her sounds like the perfect plan.
Sassy, sexy, thoroughly awkward, and with a classic case of opposites attract, Four Day Fling was a hilarious and entertaining jaunt that you will not want to miss.
I received a complimentary copy of this book for my honest and unbiased review.
Click the Cover to Buy Now!