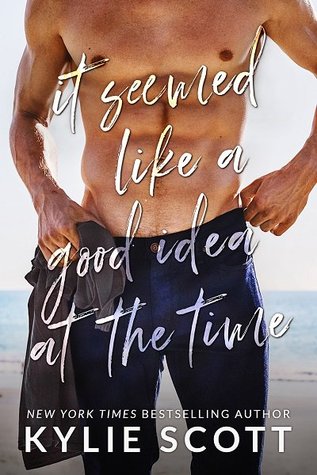 4.5 Stars
Seven years ago Adele made a big mistake. Now, returning for her fathers wedding, she is finally about to revisit the scene of her where her childish impulses led her life astray. And for the first time since then, she will be seeing the one person who suffered just as much as she did for her once bad decision…
Pete is doing a favor for his boss by letting his daughter stay with him for a few days while his bosses wedding festivities are in full swing. While he has never forgiven Adele for that  night seven years ago, he will do his best to make her feel like a welcome guest in his home… maybe…
Adele's childhood crush is even sexier than he was seven years ago. But his surly attitude is way more of a deterrent than their age difference ever was… and she will definitely  have no problem resisting him… this time… 
~~~~~~~~~~~~~~~~~~~~~~~~~~~~~~~~~~~~~~~~~
Read this book! For the hilarious banter and relationship friction, the super hot sex, and the non-traditional start to a something amazing that deserves it's chance to thrive…
Adele is an impulsive, yet refreshing woman who knows what she wants and isn't afraid to reach for it. I loved her so much, with her determination to drive Pete just a little nuts, she had me laughing out loud throughout this book. While she has been harboring love for Pete since very early on, now that she has grown up, she has completely moved on from her feelings for him, well… she thought she had…
As a rule, Pete does everything he can to avoid committed relationships. Now that Adele is back in his life again, his grumpy attitude toward her is something that seems to be difficult for him to keep up. While they had once shared a unique friendship, now that she is older, wiser and even more beautiful, every day spent in her presence makes it impossible for him to keep his distance.
With an age difference that may seem large at the beginning, the sexual attraction between Adele and Pete is just another aspect of how these two even each other out and  solidifies that they just might belong together…
I enjoyed this book so much! It was a completely different read from what I have come to love and expect from Kylie Scott, and it was such a fantastic departure to partake in! Funny, sexy and complicated, the relationship between Adele and Pete is not to be missed!
I received a complimentary copy of this book for my honest and unbiased review.
Click the Cover to Buy Now!