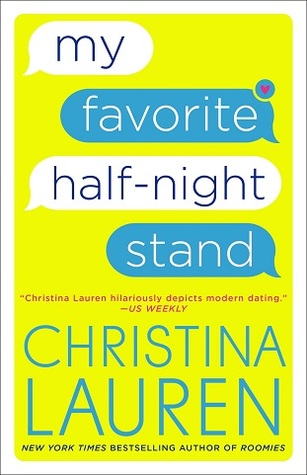 5 Stars
Millie Morris loves her group of friends. They are the greatest guys she has ever known, who are all ridiculously smart, funny and they share the most uncomplicated of friendships. So when she and her BFF Reid cross the line of friendship to friends-who-have-seen-each-other-naked, uncomplicated might just be a memory that they both share…
Reid Campbell views Millie as one of his closest friends, but her aversion to ever showing anything deeper in the feelings department quickly derails them having anything more than their one half-night stand.
Moving on in friendship and deciding as a group to try their hands at online dating, the saga of Millie and Reid is just getting started… and their complex feelings are about to get in the way of the friendship they cherish so much…
~~~~~~~~~~~~~~~~~~~~~~~~~~~~~~~~~~~~~~~~~
My Favorite Half-Night Stand is another refreshing and incomparable story from the magnificent writing duo, Christina Lauren. Hilarious, heartfelt and highly entertaining, I fell in love with Reid, Millie and their devoted group of scholarly friends.
Millie is the lone woman and comic relief in her steadfast group of friends. While her tendency to be quick with a quip keeps her from getting too deep when people ask personal questions, she starts to realize that her failure to reveal her true feelings may be keeping her from the life, and love that she wants.
Reid has always put his work before anything else, much to the detriment of his personal life. When he and Millie spend the night together, it opens his eyes to the possibility of having something more with a woman who already means so much to him. But, when she keeps him at arms length, he follows her lead and moves on from the connection they shared.
The dilemma: Millie, Reid and the rest of the crew decide as a group to try online dating, but those pesky unresolved feelings between Mille and Reid are suddenly under a magnifying glass when the prospect of losing each other to a real life relationship is suddenly a very real possibility.
I absolutely loved this book!! From the effortless group friendship, to Millie and Reid's journey to their well deserved HEA. I found myself at one moment laughing, and the next in tears throughout this one of a kind story.
Mille was such a great character, with her quirky love of all things female serial killer, to her realization of her struggle at being open with the ones she loves. She has some real work to do on getting herself in a place where she can be more than just the girl who deflects with a quick joke.
And who couldn't love Reid, with his devotion to Millie, where he wants more, but is constantly disappointed with only getting from her what is seemingly at the surface. He was a strong character, who loved his family and friends endlessly, and who at this point in his life, finds himself ready to find a deep connection with a woman, whether it ends up being his best friend, or not.
I received a complimentary copy of this book for my honest and unbiased review.
Click the Cover to Buy Now!