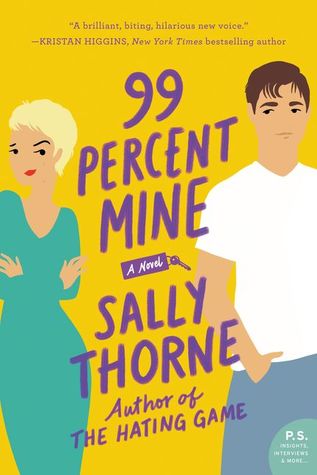 4 Stars
Darcy Barrett never likes to stay in one place too long. Forever smothered by her family, she made her escape traveling long ago. But, with the stipulation of her recently deceased grandmother's estate requiring her to renovate and sell her house, Darcy finds herself reluctantly sticking around. Until her contractor shows up… Tom Valeska, the irresistible man she could never have is… suddenly staying for awhile…
~~~~~~~~~~~~~~~~~~~~~~~~~~~~~~~~~~~~~~~~~~~~~
99 Percent Mine was an emotional glimpse into the the life and tribulations of Darcy Barrett. When a strong woman who can ice out the roughest of men meets her match in the childhood crush she will harbor forever…
Darcy has been lead around by her heart condition her entire life. Given the chance to escape the constant worrying of her loved ones, she escapes in travel and, if she can help it, rarely returns home. Biding her time with bartending until she can renovate her grandmother's house, Darcy comes home one night to find the best man she has ever known on her doorstep. With everyone she loves counting on her to run away, Darcy decides it's time to show them all just what she is made of… tempting Tom included.
Tom loves the Barrett family as his own, and would never do anything to upset them or let them down. Determined to renovate the family home to perfection, he harbors a few secrets along the way to keep things uncomplicated… until they're anything but.
This book was such a delightful multi-faceted read. From Darcy's entertaining personality and take no BS attitude, to her inner self-loathing that she hides so well, I loved her for being a complicated and genuine character. With a hard to understand relationship with her family, to her utter devotion to Tom, I was left in complete turmoil waiting for what would happen next on the Darcy stage.
With a slow burn romance and sexual tension heating up the pages, I loved rooting for these adorable characters to learn how to be true to each other… and themselves.
I received a complimentary copy of this book for my honest and unbiased review.
Click the Cover to Buy Now!