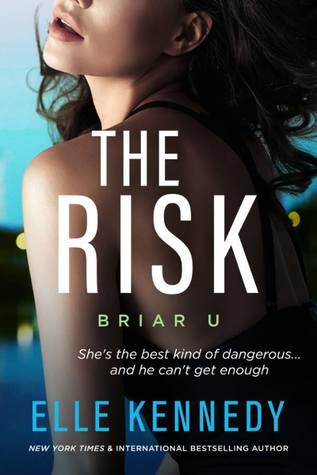 3 Stars
Brenna Jensen is no stranger to having fun and enjoying her life, without taking anything too seriously… with the exception of hockey. Attending Briar University where she is the daughter of the hockey coach, Brenna has no love for their rival team at Harvard… especially their superstar captain…
Jake Connelly eats, sleeps and breathes his hockey career. Recruited to play for the NHL when he graduates from Harvard, his final year playing at the college level is more important than ever… and the last thing he needs is a distraction like Brenna Jensen…
~~~~~~~~~~~~~~~~~~~~~~~~~~~~~~~~~~~~~~~~~~~
The Risk was an entertaining enemies to lovers romance centered around the world of college hockey and the two star crossed lovers who are caught up in an epic rivalry… in and out of the game.
Brenna is a young woman who loves everything hockey, and she dreams of being on the forefront of sports journalism after she graduates from college. And while she comes by her dislike for Jake quite honestly, when she keeps finding herself in his vicinity, they somehow, inexplicably, keep ending up kissing each other… a lot.
Jake has always worked hard to be the best, and he has no problem owning his success. Confident and extremely cocky, he knows he is quite the catch… even if Brenna doesn't agree. But when Brenna asks him for a favor, Jake isn't about to let the opportunity to have her indebted to him pass him by…
I really enjoyed the plot and storyline of this book, the relationship between Brenna and Jake was fraught with all kinds of delicious rivalry drama that kept me invested in the story. But, my biggest disconnect was with the characters themselves, it might have been the young and inexperienced aspect of their personalities, but I had a hard time really connecting with any of them. And while I would have loved to see some large strides in the character development, I would say that Brenna's relationship with her father was the most heartbreaking and then satisfying progression in the story.
I received a complimentary copy of this book for my honest and unbiased review.
Click the Cover to Buy Now!
Read Book One!