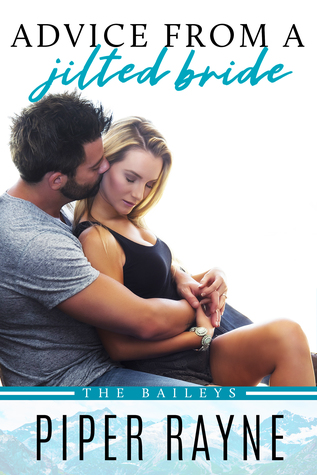 4 Stars
After being stood up at the altar in front of her entire town, Brooklyn Bailey has sworn off of all men, especially men who happen to be way too good looking… men like her brand new next door neighbor.
Wyatt Whitmore is trying to stay semi-undercover while living in Lake Starlight and working as the local hotel's newest manager-in-training. As the son of the hotel's new owner, he needs to identify the businesses weak spots… his inheritance depends on it.
Secrets don't remain quiet in a town like Lake Starlight for too long. And while Brooklyn and Wyatt form an uncertain friendship, it isn't long before their friendly neighbor overtures turn into the possibility of another terrible heartbreak for the recently jilted Brooklyn.
~~~~~~~~~~~~~~~~~~~~~~~~~~~~~~~~~~~~~~~~~~~
Advice from a Jilted Bride was a sweet and amorous friends-to-lovers story set in the adorable town of Lake Starlight, Alaska. Brooklyn and Wyatt meet at a time in their lives when neither one of them is ready for a relationship… but when love finds them, what they want and what they can't resist are destined to change even the most stubborn of minds…
After the wedding that never was, Brooklyn finds herself hiding from her well meaning family to give herself some much needed healing time. Holed up in her apartment alone, it isn't long before her new neighbor infiltrates her pity party to lend a hand. They embark on a mutual agreement that their sexual tension riddled friendship should absolutely avoid all romantic entanglements… because Brooklyn just doesn't think her freshly broken heart could survive losing a man like Wyatt.
Wyatt is definitely more suited to life in NYC, than small town living in Alaska. Determined to do his job and return home ASAP, he can't seem to stop himself from befriending the gorgeous woman whose fiancée had to have been an idiot to leave her. From friendship to dating… when his NYC roots come calling, will Wyatt be able to leave like he always planned… or will Brooklyn follow him to an entirely different life…
I enjoyed both Brooklyn's and Wyatt's characters. With a small opposites attract vibe, the city boy and small town girl were a well suited match from the very beginning. This book was heartwarming and sweet, while still being sexy and humorous at the same time.
This book was another fantastic addition to The Baileys series!! With the second Bailey sibling finding her HEA, I simply can not wait and see what the next story in this series has in store!!
I received a complimentary copy of this book for my honest and unbiased review.
Click the Cover to Buy Now!
Read the Series!!