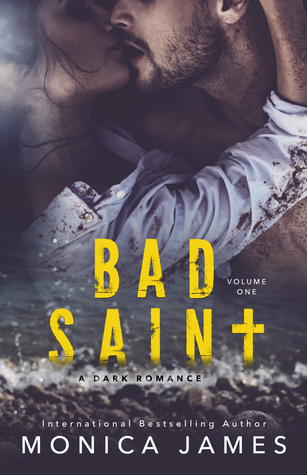 3.5 Stars
Jetting off to her honeymoon after her whirlwind wedding, Willow Shaw is having the best day of her life. With her new husband by her side, her life is finally looking up… and then chaos ensues. Kidnapped from her honeymoon suite, Willow is left to her unknown fate and her merciless captors who seem to have a mission to deliver her somewhere dreaded and much worse than she can even fathom…
On her own and utterly afraid, Willow has no one to turn to, but there is one man who doesn't seem to be like the others… until she finds out that Saint may be the most treacherous one of them all…
~~~~~~~~~~~~~~~~~~~~~~~~~~~~~~~~~~~~~~
Bad Saint was a dark and sweeping tale of a woman's worst nightmare, and the salvation she might find in the unforgiving man with his dark and damaged soul, that is hell bent on delivering her to her bleak future.
Willow was such a strong woman who absolutely refused to be a victim, and worked tirelessly to escape the clutches of her kidnappers. Determined and resourceful, she waits for every chance she can find to get the upper hand and her freedom. With her unwanted attraction to Saint constantly getting in her way, she struggles to remember his unwavering dedication to his mission, and what that will mean for her future.
Saint is a mysterious and demanding man who despite his mission, wants to help Willow in the life he is delivering her to. With his secrets held close to his chest, he constantly runs hot and cold when faced with Willow and her steadfast determination. But if he acts upon his attraction to her, it will only cause more problems that he is not prepare to deal with.
I really enjoyed this plot and I was completely drawn into the characters and their stubborn personalities. And while the writing was also fantastic, I felt that this storyline moved way too slowly. With the understanding that this is part one in a trilogy, I felt like very little ground was covered in the overall progression of the story and that some unnecessary action was written in to fill this book.   
The slow burn attraction between Willow and Saint heats up the pages and leaves you wanting more after each of their combustable encounters. For those of you who love a slow moving trilogy, filled with a lot of action and suspense, this is defintely one that you won't want to miss.
I received a complimentary copy of this book for my honest and unbiased review.
Click the Cover to Buy Now!