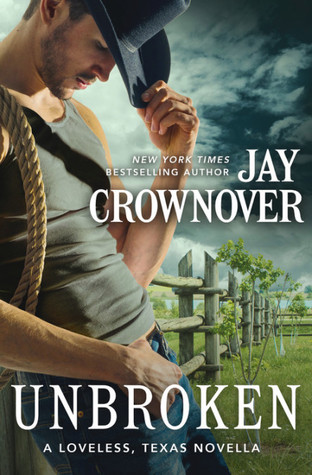 3.5 Stars
Crew Lawton's time has run out on his gambling addiction. With his career in tatters and the money he still owes hanging over his head, when the perfect opportunity to make some quick cash (the legal way) is presented to him, Crew will do anything to make his new employer happy…
Della Deveaux has a lot to prove with her new men's line from her family company… and the completely wrong type of man signed on to be her spokesman. But she is determined to make him over in to what she needs… until she meets him and her campaign instincts have other plans…
~~~~~~~~~~~~~~~~~~~~~~~~~~~~~~~~~~~~~~~~~~~~~~~
Unbroken is a fast and sexy, opposites attract story about a cowboy who has hit rock bottom and the woman who makes him want to finally be the type of man who could deserve someone like her.
Crew has a lot of issues about not being good enough and making bad decisions that affect more than just his own life. From being a rodeo star one minute to losing his endorsements the next, it isn't just his career that is in major trouble. Meeting Della, who is the complete opposite of every woman he has ever encountered at the rodeo, Crew is immediately attracted to this prim and proper woman… and he would love the opportunity to dirty her up a little…
Della has a lot riding on her campaign, and changing Crew into the perfect model is her number one priority… until she glimpses this charismatic man in his element. And the more time she spends with Crew, the harder it is for her not to fall for the sexy cowboy who knows how to treat a woman…
This was a great novella which introduces us to the upcoming Loveless, Texas series. I really enjoyed meeting the Lawton family and I can't wait to see what the rest of the series has in store! Crew and Della's opposite attract romance was red hot and fast paced, but also lacked some of the depth you would find in a full length novel. I didn't love Crew in the beginning, but I definitely saw some much needed growth in him by the end of the story.
I received a complimentary copy of this book for my honest and unbiased review.
Click the Cover to Buy Now!
Pre-Order Book One!!