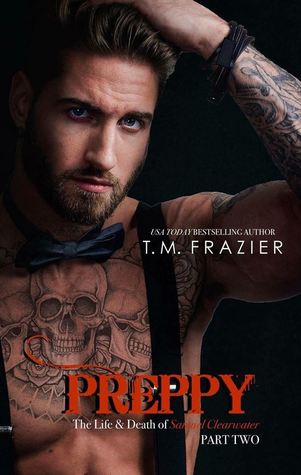 4.5 Stars
*** This review may contain spoilers if you have not yet read Preppy Part One… and all of the King Series while you're at it!! ***
~~~~~~~~~~~~~~~~~~~~~~~~~~~~~~~~~~~~~~~~~~~~~~~
"Because my name is Samuel Clearwater, and I take orders from no one. Not even death."
Preppy is back from the dead. While his friends have been mourning him and trying to move on, Preppy was being tortured and thinking about them all and relieving his past.
When Preppy is thrust back into their lives, it seems that everything that has changed in his absence. Now, while not only healing from his captivity, he must try to fit back into a life that no longer exists.
Dre has accepted the loss of Preppy, and has moved on with life in her own way. Until she shows up in Logan's Beach and discovers that not only is Preppy alive… but he's also her… husband?!
~~~~~~~~~~~~~~~~~~~~~~~~~~~~~~~~~~~~~~~~~~~~~~~
Part Two of Preppy and Dre's story is not to be missed. While the two have let each other go, being back in the same town, and now realizing what they lost in each other, all previous heartbreak is fading away… well most of it. Since their lives have changed so much, will Preppy and Dre ever be able to recognize in each other the feelings they once had? Or has too much changed for them to ever fit again…
Click the Cover to Buy Now!
Read for Free with Kindle Unlimited!
Try Kindle Unlimited Free for 30 Days!
Read the Entire Series!!