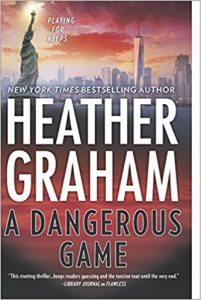 About A Dangerous Game
Hardcover: 336 pages
Publisher: MIRA (March 13, 2018)
TROUBLE ALWAYS FINDS HER…
Wrapping up a normal day at the office, criminal psychologist Kieran Finnegan is accosted by a desperate woman who shoves an infant into her arms and then flees, only to be murdered minutes later on a busy Manhattan street.
Who was the woman? Where did the baby come from? Kieran can't stop thinking about the child and the victim, so her boyfriend, Craig Frasier, does what any good special agent boyfriend would do—he gets the FBI involved. And asks Kieran to keep out of it.
But the Finnegans have a knack for getting into trouble, and Kieran won't sit idle when a lead surfaces through her family's pub. Investigating on her own, she uncovers a dangerous group that plays fast and loose with human lives and will stop at nothing to keep their secrets—and they plan to silence Kieran before she can expose their deadly enterprise.

Purchase Links
Amazon | Books-A-Million | Barnes & Noble
Exclusive Excerpt:
Anthony Andrews adjusted the mic he wore and cleared his throat. He identified their Jane Doe by date and circumstance and stated the date, his own work as the ME, Jerry Sanders as his assistant, and Mike and Craig as witnesses.
And he set to work.
Y incisions were, to the layman—and to Craig this many years into his work—little less than horrendous. The sound of the ribs breaking seemed extremely brutal.
But Craig was also passionate in his belief that the dead did speak. Autopsy was incredibly important. He believed in God or a higher power, and that when the soul was long gone, the body could no longer be hurt. But, it was still hard to watch sometimes.
The process today was the usual. Andrews and his assistant worked over the body. The organs were studied and weighed; samples of blood and stomach contents were taken.
Lance Kendall arrived sometime soon after the first hour. He stood as Mike and Craig did—still and listening. Craig hadn't met Kendall before he'd arrived at the scene of the murder on Friday, though he did know many of the men with the Major Case Squad of the NYPD. At the crime scene, Kendall had been thorough and detailed—polite to Craig, and making no comments about not needing the FBI for a murder on the street. He was, Craig imagined, ambitious, but didn't seem the kind to put ambition before results. Of course, Craig had no idea how the man felt about it all now that the case had been handed to a task force and the FBI was taking the lead.
"This is something you need to see," Dr. Andrews said.
He was inspecting the corpse's mouth.
They all moved over, one by one, and the ME pointed out the woman's dental work.
Craig had no idea of what he was looking at—only silver fillings here and there.
He knew that Andrews would explain.
"I believe that this woman is approximately forty—though she does look fifty. She has not, however, recently borne a child, so the baby is not hers. What I was showing you, that isn't American dental work, and it isn't new. It was probably done more than ten years ago, and I'd say that it was done somewhere in Eastern Europe—a country that was once part of the Soviet Union or under the Communist bloc, most likely. Russia maybe, the Ukraine…but, then again, maybe Albania or somewhere in the former Yugoslavia. In other words, I do believe she's of Eastern European descent, but she's not malnourished. She's healthy—just worn. I don't believe she's taken care of herself well—she's probably faced tremendous stress to look ten years older than I believe her age to be. She's worked hard—manually, I believe. Take a look at her hands. Possibly, she worked as a maid. We're trying for an ID, naturally, through fingerprints. We'll search through dental records, but I doubt we'll find local records for her."
"We are testing to see if she was related to the baby," Craig said. It wasn't really a question; it was an obvious action to be taken.
"Of course," Andrews said. He looked at Lance Kendall. "As your FBI team members noted, the one stab wound in the back that killed her most probably occurred swiftly—she didn't know what hit her. She staggered toward Miss Finnegan in the street because you instinctively turn when you're attacked from behind. The attack was planned and fluid—that type of knife isn't just in everyone's daily purse or briefcase."
"So our Jane Doe was followed to the offices of Fuller and Miro. And she went to those offices to hand the baby to Kieran Finnegan. Why?" Kendall asked.
"We don't know," Craig said. Andrews cleared his throat. "Gentlemen, I've given you what I can. I'll make sure you all receive a hard copy of the report. If we discover anything else on our end, of course, you'll be notified."
"What about ethnicity through DNA?" Craig asked.
"Well, we might be able to pinpoint an area of most likely ancestry," Andrews said.
"That will be helpful," Craig said.
"Of course," Andrews said. "I'll keep everyone informed on any information that I get. As soon as I have it, naturally." He stared at them all.
It was their cue to leave. The three of them thanked him and headed toward the building entrance. As they did so, a man was hurrying in. He was very tall and lean, with tawny eyes and sandy hair. He was in a polo shirt and jeans and a jacket. Beneath the jacket, Craig was aware, the man was carrying a weapon.
Purchase Links
Amazon | Books-A-Million | Barnes & Noble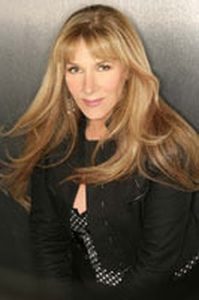 About Heather Graham
New York Times and USA Today bestselling author Heather Graham has written more than a hundred novels. She's a winner of the RWA's Lifetime Achievement Award, and the Thriller Writers' Silver Bullet. She is an active member of International Thriller Writers and Mystery Writers of America. For more information on Heather and her work, check out her websites:
TheOriginalHeatherGraham.com, eHeatherGraham.com, and HeatherGraham.tv. You can also find Heather on Facebook, Twitter, and YouTube.