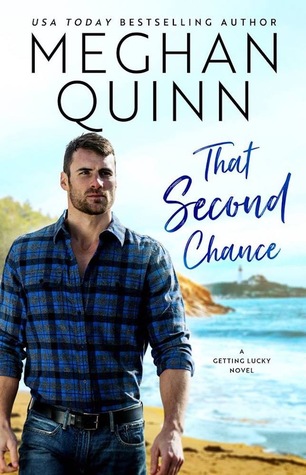 4 Stars
Griffin Knightly was once blissfully happy with his life in Port Snow, Maine…. until he experiences a loss that rips his whole world apart. Picking up the pieces of his life by insulating himself from further romantic entanglements seems like the easiest way to move on… until he meets Ren.
After surviving a traumatic car accident in Los Angeles, Ren Winters is ready for a quieter and more peaceful life. Moving to small town Maine, away from her past and her overprotective family, she is searching for a fresh start… and Port Snow seems like the magical place to find it in…
~~~~~~~~~~~~~~~~~~~~~~~~~~~~~~~~~~~~~~~~~~~
That Second Chance was a sweet, suuuupppper slow burn romance about not only finding your second chance, but being mature enough to grab it with both hands. Although Griffin and Ren experience an immediate connection, they form a friendship first and try their hardest to ignore their budding feelings for each other. But, with a meddling town and an attraction that continues to simmer, they can only keep from themselves from kissing for so long…
Ren is staring a new adventure and finally doing something big… and completely on her own. With a crazy first day in town and an unforgettable meeting with Griffin, she immediately finds a connection and effortless friendship with him. But, with his heated looks one minute and then completely shutting down on her the next, he is continuously sending her mixed signals… and she has no idea why.
Griffin has a beautiful heart, but at the same time is incredibly guarded and untouchable. He has a great love for his community and his family, and would do almost anything for something that he cares about. But, with the loss of his wife and a curse hanging over his head… that's right a curse… when it comes to decisions he makes, he is always thinking about almost everyone but himself.
Ren was such a sweet and understanding woman. She never pushes Griffin for more or expects anything out of him that he can't give, but she can also only take so much when it comes to his inability to move forward with their relationship. Griffin was devastated when he lost his wife and has had a dark cloud hanging over him ever since. With his self-sabotaging mindset getting in the way of his warm and caring personality, he is headed for quite the battle with himself and all of his "curse" related hang-ups.
I really enjoyed this book and I am SO EXCITED for the rest of the Getting Lucky series!! Ren and Griffin's friends-to-(eventually)-lovers story was sexy and sweet and the perfect introduction to this new and unforgettable group of characters.
I received a complimentary copy of this book for my honest and unbiased review.
Click the Cover to Buy Now!
Read for Free with Kindle Unlimited!
Kindle Unlimited Membership Plans
Pre-Order Book Two!!